THOSE BRACES LOOK GOOD ON YOU!
I know that right now it may feel weird to talk and bite, that's okay! A week from today you will be much more used to your braces. If not already, your teeth could start to feel a bit sore. This is normal for 1-2 weeks after a braces appointment, that just means they are working! Just like after exercising, soreness is normal. I'm very proud that you have started your orthodontic journey with us, and don't hesitate to call us if you need to! You are now part of the Kuzmic Orthodontic Family.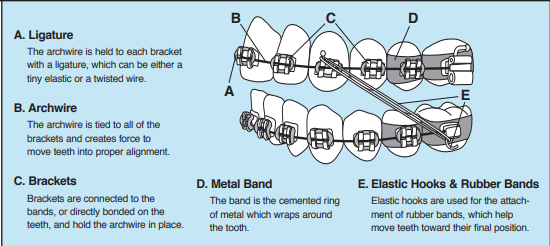 You may be able to solve many braces problems temporarily by yourself until you schedule a repair appointment. These problems need not delay your treatment.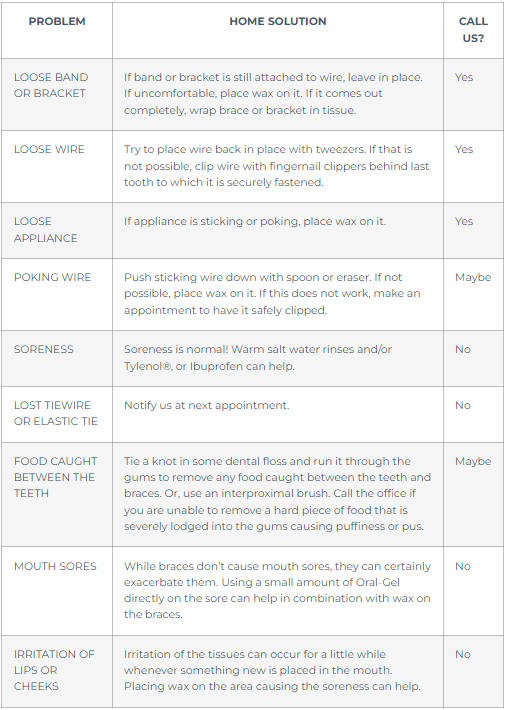 | PROBLEM | HOME SOLUTION | CALL US? |
| --- | --- | --- |
| LOOSE BAND OR BRACKET | If band or bracket is still attached to wire, leave in place. If uncomfortable, place wax on it. If it comes out completely, wrap brace or bracket in tissue. | Yes |
| LOOSE WIRE | Try to place wire back in place with tweezers. If that is not possible, clip wire with fingernail clippers behind last tooth to which it is securely fastened. | Yes |
| LOOSE APPLIANCE | If appliance is sticking or poking, place wax on it. | Yes |
| POKING WIRE | Push sticking wire down with spoon or eraser. If not possible, place wax on it. If this does not work, make an appointment to have it safely clipped. | Maybe |
| SORENESS | Soreness is normal! Warm salt water rinses and/or Tylenol®, or Ibuprofen can help. | No |
| LOST TIEWIRE OR ELASTIC TIE | Notify us at next appointment. | No |
| FOOD CAUGHT BETWEEN THE TEETH | Tie a knot in some dental floss and run it through the gums to remove any food caught between the teeth and braces. Or, use an interproximal brush. Call the office if you are unable to remove a hard piece of food that is severely lodged into the gums causing puffiness or pus. | Maybe |
| MOUTH SORES | While braces don't cause mouth sores, they can certainly exacerbate them. Using a small amount of Oral-Gel directly on the sore can help in combination with wax on the braces. | No |
| IRRITATION OF LIPS OR CHEEKS | Irritation of the tissues can occur for a little while whenever something new is placed in the mouth. Placing wax on the area causing the soreness can help. | No |
Piece of appliance is swallowed
This is rare, but when it does happen, it can be fairly alarming to the patient. Encourage your patient to remain calm. If the patient is coughing excessively or having difficulty breathing, the piece could have been aspirated. If you are able to see the piece, you may carefully attempt to remove it. But do not make the attempt if you could cause harm. If appropriate under the circumstances, examine the patient's braces for problems that may result from the missing piece, such as looseness or irritation, and treat as specified above. If you are unable to see the piece and believe it may be have been aspirated, notify the parent/guardian and the orthodontist immediately.
If you feel you are unable to handle a problem on your own or with help from family, please call us as soon as possible.
Foods that cannot be cleaned off the braces may lead to discoloration and decay of your teeth. Even though our braces and wires are metal, they are fragile and are usually damaged by eating the wrong foods, thus taking us longer to finish your treatment.
In general, please avoid foods that are HARD, STICKY, and CHEWY.
ABSOLUTELY NO – WILL BREAK BRACKETS!
STICKY FOODS
Caramels
Caramel Apples
Gummy Bears
Taffy
Licorice
Starbursts
Toffee
Tootsie Rolls
HARD FOODS
Carrots/Apples (unless cooked or cut into small pieces)
Bagels/Hard Bread
Corn on the Cobb
Hard Chips
Pizza Crusts
Popcorn
Jerky
Hard Candy
Hard Pretzels
Hard Nuts
Ice
Raw Vegetables
Granola Bars
MINIMIZE SUGAR INTAKE – CAUSES CAVITIES!
EAT MUCH LESS
Cake
Candy
Cookies
Ice Cream
Pie
Syrup
DRINK MUCH LESS
Soda Pop
Energy Drinks
Sports Drinks (Gatorade/Powerade)
Sugary Drinks (Tea, Coffee with Sugar, Fruit Drinks)
AVOID CHEWING ON PENS, PENCILS, AND FINGERNAILS
In order to become an orthodontist, Dr. Kuzmic tested the bond strength of braces and the hardness of different foods in a lab to determine scientifically which foods are the worst! His data can be seen in the Aggie Bite Chart in the office!